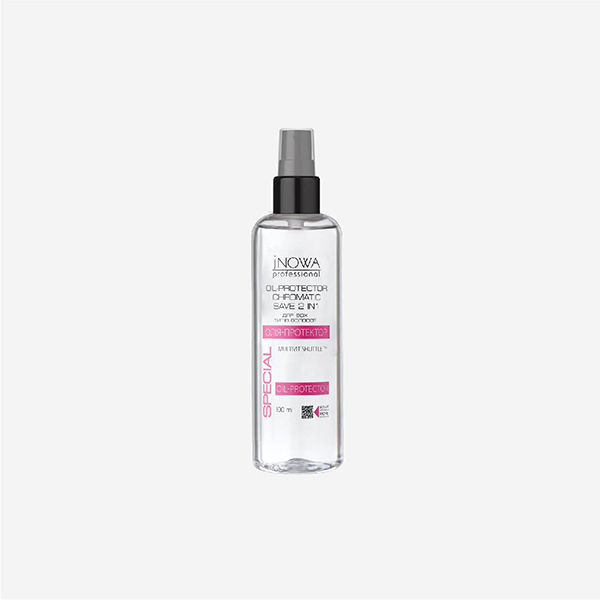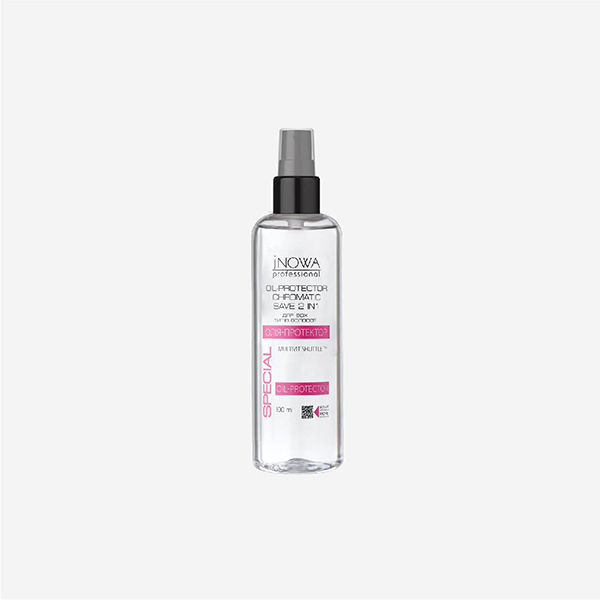 Oil protector Chromatic Save 2 in 1
Oil protector Chromatic Save 2 in 1
Has a light oily texture.
Recommended to add to the dye mixture to protect the hair and scalp during bleaching and dyeing.
Does not reduce the intensity of coloring, additionally moisturizes and adds shine.
Features:
– suitable for all hair types;
– protects the hair structure during coloring and lightening;
– minimizes the risk of scalp irritation;
– protects against brittleness and dry ends;
– Chromatic Save complex to preserve color and moisturize hair;
– Multivit Shuttle system to nourish hair from the inside;
– Lawsonia extract and linseed oil give shine;
– can be applied along the hairline to protect the skin from paint.
The release form is a bottle with a dispenser – 100 ml
Description
LAWSONIA OIL
A natural component that eliminates brittleness, improving the condition of the hair cuticle. Ultra-light oil gives additional volume to hair, returns lost natural strength. Avocado oil has small molecules that penetrate into the middle of the hair and saturate the shaft with many useful vitamins: A, B5, E, potassium and biotin. All of them contribute to the restoration of the hair structure and protect it from external negative influences. Thanks to biotin, avocado oil promotes hair growth and strengthens hair follicles.
KeraVital Complex
An innovative complex specially developed by the ACME Healthy Hair Institute to provide intensive hair care, protection, shine, reconstruction and hydration. The composition of this complex:
Hydrolyzed keratin – restores the hair structure. Molecules of natural protein from sheep's wool. Fills voids, makes hair thicker. Covers the outside, gives shine.

Oat oil – accelerates collagen production and strengthens hair. Nourishes hair follicles, moisturizes the scalp. Accelerates collagen production and hair growth. Prevents shedding. Makes hair elastic on the outside.

Cotton extract – softens and smoothes hair. Makes combing easier. Creates a protective film against the release of moisture and color from the upper layers of the hair. Protects from sunlight.

Betaine – provides smoothness and moisture to the hair. Belongs to amino acids. Closes the scales to preserve the effect of the procedures. Prevents scalp irritation, conditions

Wheat germ oil is a source of vitamin E. Improves oxygen exchange in hair follicles, stimulates hair growth. Fights the accumulation of harmful substances.
Multivit Shuttle Complex is an innovative development of a Spanish cosmetic company, which is a system for delivering a complex of vitamins deep into the hair shaft.
What is Multivit Shuttle Complex? It is a balanced combination of vitamins and moisturizers that are delivered and act directly on the hair shaft. Its composition is as follows:
Panthenol (B5) – deeply moisturizes

Witch hazel leaf extract combined with lecithin strengthens hair

Sorbitol+Glycerin – prevents moisture loss

Complex of vitamins E, P, F – powerful antioxidant effect and protection against oxidizing effects caused by UV radiation
The delivery system, based on silicon dioxide microsponges, helps to reach the hair shaft and deposit the active ingredients there. It protects, revitalizes and strengthens the hair.
Thanks to Multivit Shuttle Complex:
moisture is retained in the hair

saturates and deposition of vitamins on the rod

hair strength increases