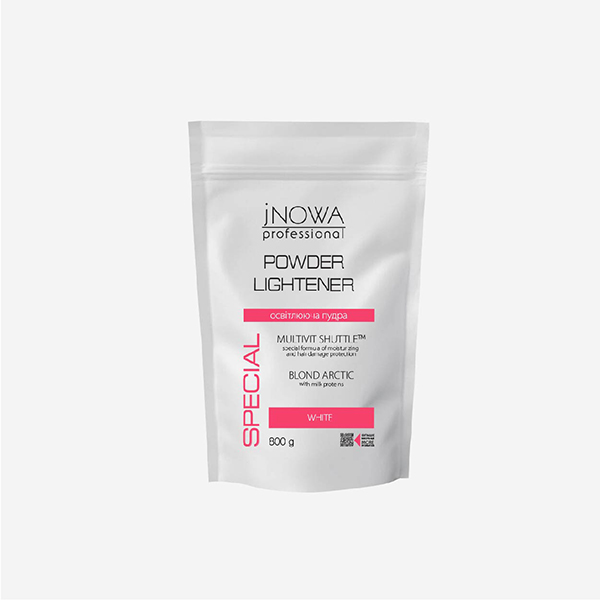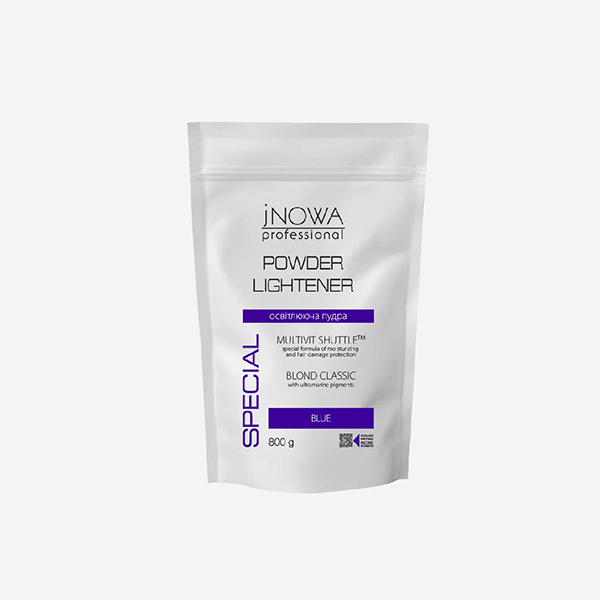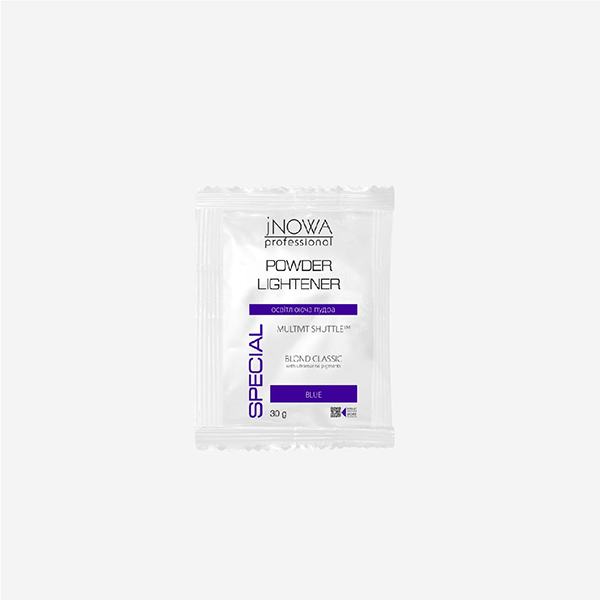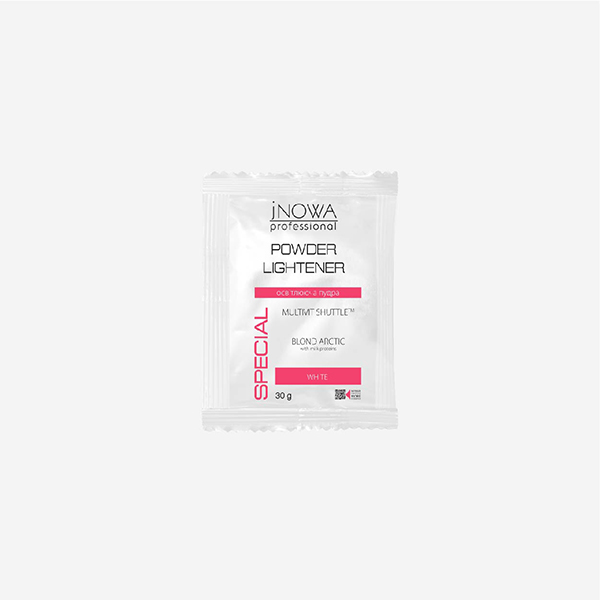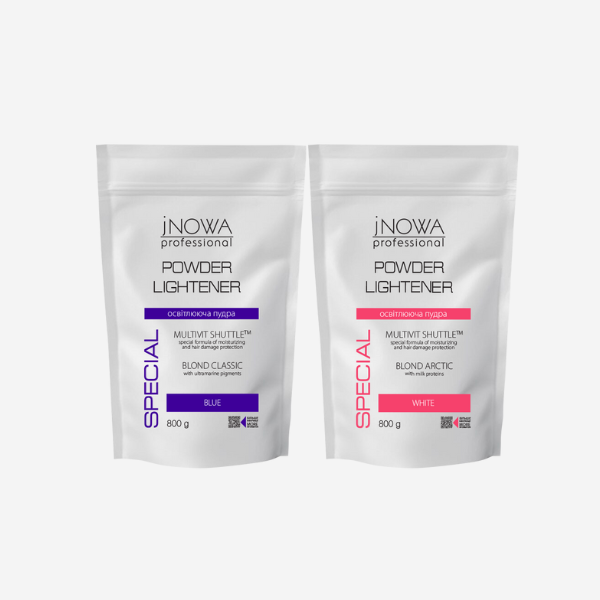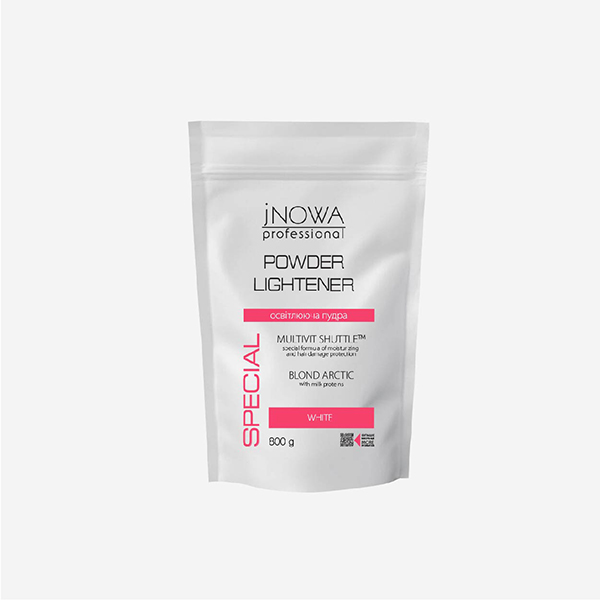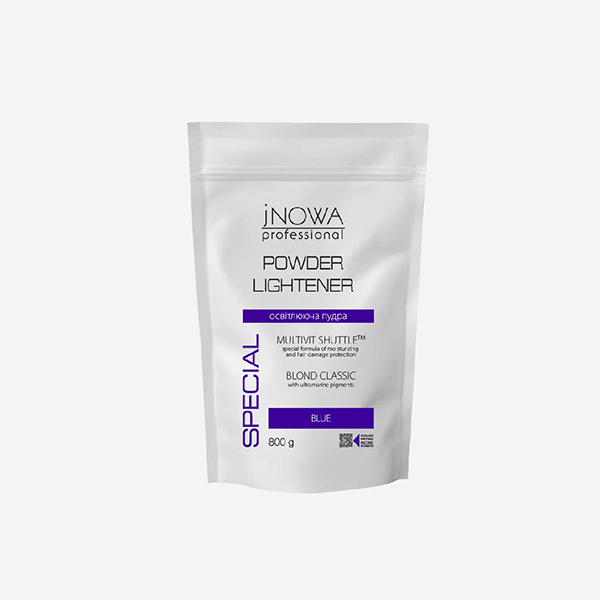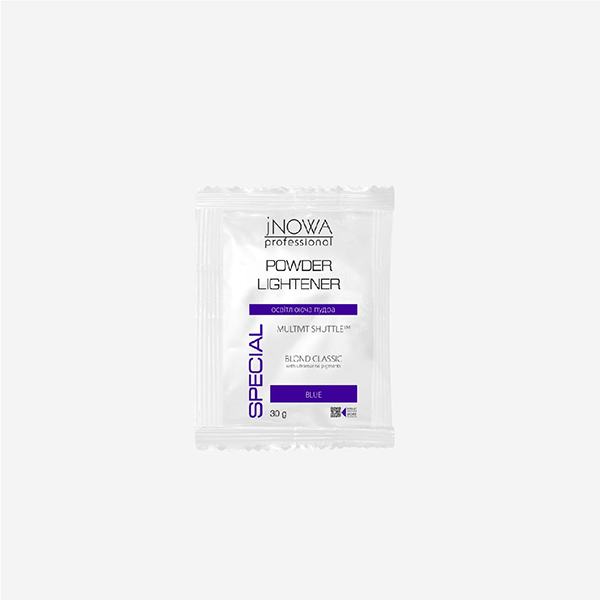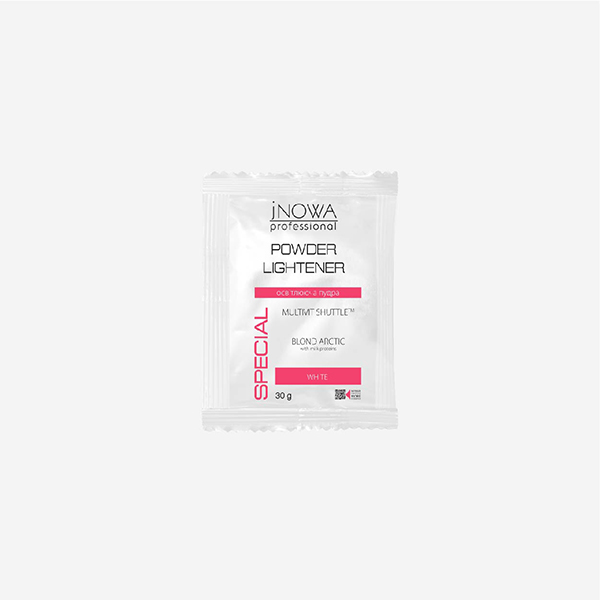 POWDER LIGHETENER
It contains Multivit Shuttle TM– a unique balanced combination of active moisturizers and vitamins with a special formula, which provides a delivery system that protects the hair from dryness and brittleness, preventing damage.
POWDER BLOND ARCTIC WHITE
POWDER LIGHTENER BLOND CLASSIC BLUE
Milk proteins provide extra protection and moisturizing during lightening
Lightening up to 6 levels
Suitable for damaged and thin hair
Allows you to control the lighting process and obtain the desired lighting background
Creamy texture
Does not disperse
The powder formulation softly and carefully lightens the hair
Does not spread
HOW TO USE: mix in a non-metallic container to obtain a homogeneous creamy mass of the bleaching powder with the oxidizing in a ratio of 1:2 (30 g of the bleaching powder and 60 ml of the oxidizing emulsion). Apply the resulting mixture on the hair with a brush. The exposure time is 20-60 minutes (depending on the desired degree of lightening and the percentage of oxidizing emulsion). At the end of the exposure time, rinse your hair thoroughly with jNOWA Professional Deep Clean shampoo.
WARNING: do not use metal objects while working with the product. Wear protective gloves. An allergy test must be performed before use. Do not use in case of scalp inflammation and allergic reactions. If allergic reactions occur, be sure to consult a dermatologist! Avoid contact with eyes. In case of eye contact, rinse immediately with plenty of water. It is recommended to bleach hair no earlier than 2-3 days after washing and 3 weeks after perming. It is recommended to prevent contact of the oxidizing emulsion 12% (40 vol) with the scalp. Keep in a dry place out of children's reach! Avoid direct sunlight.
INGREDIENTS: POTASSIUM PERSULFATE, AMMONIUM PERSULFATE, PARAFFINUM LIQUIDUM, MAGNESIUM CARBONATE HYDROXIDE, SODIUM METASILICATE, SODIUM PERSULFATE,  SODIUM STEARATE, SILICA, XANTHAN GUM, DISODIUM EDTA, GLYCERIN (AND) SORBITOL (AND) HAMAMELIS VIRGINIANA (WITCH HAZEL) LEAF EXTRACT (AND) LECITHIN (AND) XANTHAN GUM (AND) PANTHENOL (AND) TOCOPHERYL ACETATE (AND) GLYCERYL LINOLEATE (AND) GLYCERYL LINOLENATE (AND) DIATOMACEOUS EARTH (AND) PHENOXYETHANOL (AND) CAPRYLYL GLYCOL (AND) DISODIUM EDTA (AND) GLYCERYL CAPRYLATE, HYDROLYZED MILK PROTEIN, PARFUM.
"Anti-yellow" effect contains the "ultramarine" pigment for the yellow tone neutralizing
Lightening up to 6 levels
Creamy texture
Does not disperse
The powder formulation softly and carefully lightens the hair
Does not spread

It containsMultivit Shuttle TM– unique balanced combination of active moisturizers and vitamins with the special formula, which provides a delivery system that protects the hair from dryness and brittleness, preventing damage.

HOW TO USE: mix in a non-metallic container to obtain a homogeneous creamy mass of the bleaching powder with the oxidizing in a ratio of 1:2 (30 g of the bleaching powder and 60 ml of the oxidizing emulsion). Apply the resulting mixture on the hair with a brush. The exposure time is 20-60 minutes (depending on the desired degree of lightening and the percentage of oxidizing emulsion). At the end of the exposure time, rinse your hair thoroughly with jNOWA Professional Deep Clean shampoo.

WARNING: do not use metal objects while working with the product. Wear protective gloves. An allergy test must be performed before use. Do not use in case of scalp inflammation and allergic reactions. If allergic reactions occur, be sure to consult a dermatologist! Avoid contact with eyes. In case of eye contact, rinse immediately with plenty of water. It is recommended to bleach hair no earlier than 2-3 days after washing and 3 weeks after perming. It is recommended to prevent contact of the oxidizing emulsion 12% (40 vol) with the scalp. Keep in a dry place out of children's reach! Avoid direct sunlight.

INGREDIENTS: POTASSIUM PERSULFATE, AMMONIUM PERSULFATE, MAGNESIUM CARBONATE HYDROXIDE, PARAFFINUM LIQUIDUM, SODIUM METASILICATE, SODIUM PERSULFATE, SODIUM STEARATE, XANTHAN GUM, SILICA, DISODIUM EDTA, ULTRAMARINES, PARFUM